Problems with heavy clutch action, cable resistance and cable routing on your BSA A65?
Our hydraulic clutch conversion provides a light clutch action and is maintenance-free for your convenience.
The conversion works by replacing the cable operated three ball clutch lifter with a hydraulic slave cylinder and pusher.
The kit consists of
SRM Clutch slave cylinder

Internal connection pipe

Adaptor for the hydraulic pipe

Clutch pushrod pusher
The clutch slave cylinder mounts with existing fasteners, and the adaptor replaces the standard cable adjuster.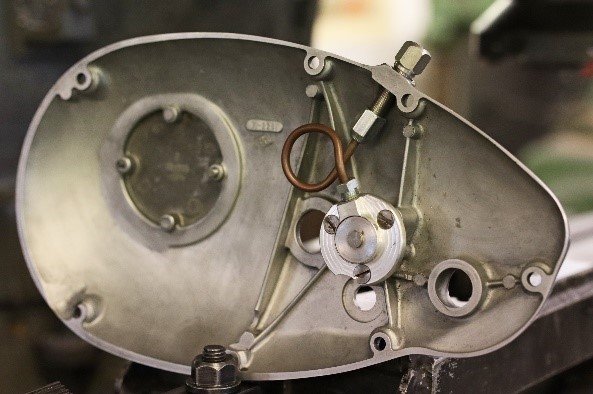 Shown fitted to an outer timing case (case not included in the kit)
The master cylinder and hydraulic line can be sourced to suit each bike (details given in the instructions)
The conversion is designed to fit BSA A65 1969-1972 models
For more information email: jon@srmclassicbikes.com
SRM part number     SRM-HYDRAULIC-CLUTCH     125.00 +VAT