Life was much different 70 years ago. An average male worker earned just £9 per week, a gallon of petrol cost 4 shillings and 6 pence (equal to 22p today) and a loaf of bread was just 4 pence. At the time, BSA, Triumph and Norton were all releasing new motorcycles, today's cherished classics.

To see how the times have changed, I've compiled the prices of some of the BSA, Norton and Triumph motorbikes available on sale in April of 1952 (as shown in the Motor Cycle magazine from the 3rd of April 1952) and found out how much they would be equivalent to today.

For comparison the new BSA Goldstar is expected to cost between £5,000-£6,000 as predicted by Motorcycle News when the first announcements were made, while the Royal Enfield Interceptor (which is rumoured to be the closest competitor to the new BSA) costs from £6,039.

The priciest of the bunch, a 2021 Triumph Bonneville T120, starts at £11,000 on the Triumph website.

You can view the original magazine pages below the table.

 

 

      

 
 
| | | | |
| --- | --- | --- | --- |
| Model | Weight (lb.) | Price - 1952 | Equivalent to: |
| BSA B32 Gold Star | 370 | £242 15s 7p | £7,409.02 |
| BSA B34 Gold Star | 380 | £253 0s 0p | £7,745.79 |
| BSA A7 | 395 | £214 13s 4p | £6,551.78 |
| BSA A7 Star Twin | 395 | £222 6s 8p | £6,796.70 |
| BSA A10 Golden Flash | 400 | £223 12s 3p | £6,827.32 |
| Norton Dominator | 438 | £245 6s 8p | £7,500.87 |
| Norton Dominator De Luxe | 380 | £260 13s 4p | £7,960.10 |
| Triumph Speed Twin | 365 | £209 11s 2p | £6,398.70 |
| Triumph Thunderbird | 370 | £219 15s 7p | £6,704.85 |
| Triumph Tiger 100 | 355 | £223 12s 3p | £6,827.32 |
| Triumph Trophy | 295 | £227 8s 11p | £6,949.78 |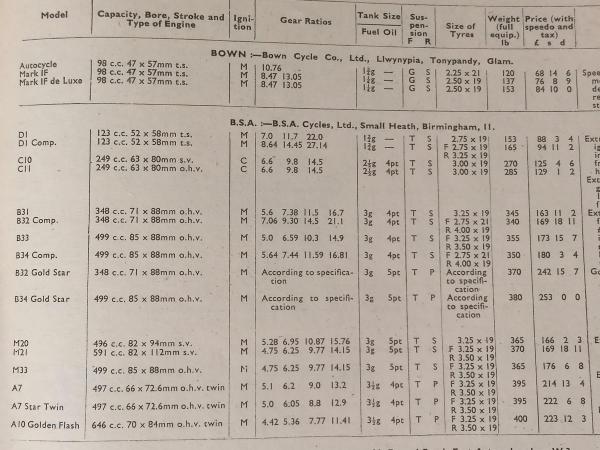 - Gabriela,
SRM Engineering